PDF Expert is a powerful PDF editor, but it's also great for taking notes on iPad. There are many things you can do: From drafting a to-do list to capturing your impressions while reading a book. Write and draw with the Apple Pencil, type your text, add shapes, and even record audio notes.
That's not what you expect from a PDF editor, right? Let's learn how to use PDF Expert as an iPad note-taking app.
Create a new note
Tap the blue plus icon at the bottom right and select New File. PDF Expert offers nine different paper types including lined and grid pages. Whether you want to jot down a new cookie recipe or take notes for a Math class, you can select the best option for your task. After choosing the paper type and color, tap Done.
A one-page file is ready for your notes! To add more pages, tap
at the top left. Here, you'll see the layout of your document. Select

at the top right to add a new page. Choose the paper type and color and tap Done. You can easily reorder existing pages by using drag&drop.
Read a book and take notes at once
Imagine you have a textbook with a list of questions you need to answer. Or maybe you want to write a summary for a particular page or chapter. In PDF Expert, you can add a blank page for notes right to your book. For example, you can read a page on the left and take notes on the right. It helps you focus on your work instead of constantly jumping between a book and a note-taking app.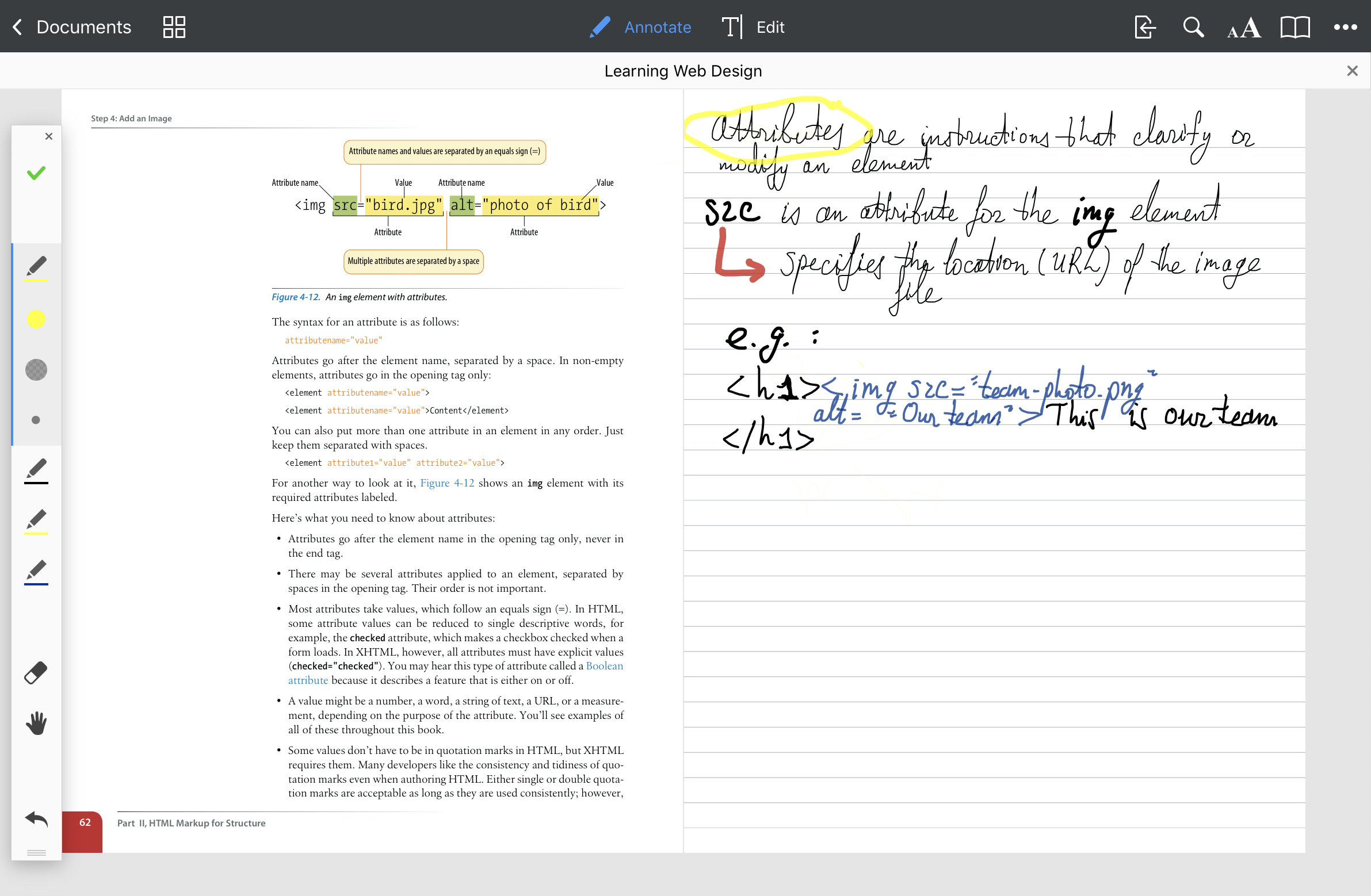 Open your book and tap
at the top right. Tick Two pages view and enable the Show first page alone toggle.
Now, let's add a blank page for writing notes on your iPad. Tap
at the top left and then choose

on the top toolbar. Select the page appearance and tap Done. If you need to move the page, long tap it and use drag&drop.
You can always extract the pages with your notes as a separate PDF file to review and store conveniently. Tap
and select Edit at the top right. Tick the needed pages and tap Extract on the upper toolbar. In a pop-up message, name your file, choose where to save it and tap Done. Now, you have your notes in one place!
Use the note-taking tools
Once you open your file, tap
Annotate to access powerful annotation tools. When you need to write or draw, select the Pen tool
on the toolbar and choose its color, opacity, and line thickness. You can create four different pen patterns and quickly switch between them while writing.
If you need to delete your writing, select the Eraser tool
and wipe the text out. Then, tap
to return to the toolbar.
To make taking notes on iPad with stylus more natural, enable the wrist protection. It allows you to rest your palm on the screen while writing and prevents iPad from reacting to this touch. In PDF Expert, tap the Settings icon at the top left. Open PDF > Wrist protection and select one of the options.
One final tip: You can move the annotation toolbar to make writing more comfortable. Tap the bottom of the toolbar and move it to the right, left, or top of the screen. For example, if you're left-handed, you can drag the toolbar to the right to manage tools with the right hand while writing.
If you're not a fan of handwriting, just type your notes. Select the Text tool
on the toolbar and tap where you want to add text. You can select the text font size, color, and family at the top of the keyboard. When you're finished, tap Done.
You can always tap a text to edit or delete it as well as resize and move the text field.
If you love visualizations, you can build diagrams and schemes in your notes. Select the Shape tool
, choose the shape you wish and its color. You can easily move, resize, and combine shapes to present the information in the most beautiful and convenient way.
Use sound annotations to capture sudden thoughts or emotions. If writing something down isn't enough, just say it! Long tap on a page and select Sound. Say everything you wish and tap the stop button when you're finished. A small sound annotation icon — easy to drag&drop — will appear on a page. Tap it to listen to your note. It's a great way to comment on a document and literally say what you think.
All your notes are saved in PDF making it easy to share and view them on multiple devices. You can keep your notes organized with PDF Expert's built-in file manager. You are always backed up: PDF Expert works with all major cloud storages so you can access your files anywhere. Also, if you have PDF Expert on Mac, you can continue editing your notes there.
We've learned how to take notes on iPad with PDF Expert. Try to create your first note or download PDF Expert if you haven't got it yet.
Can you think of more unexpected ways to use our app? Feel free to share your ideas in comments!